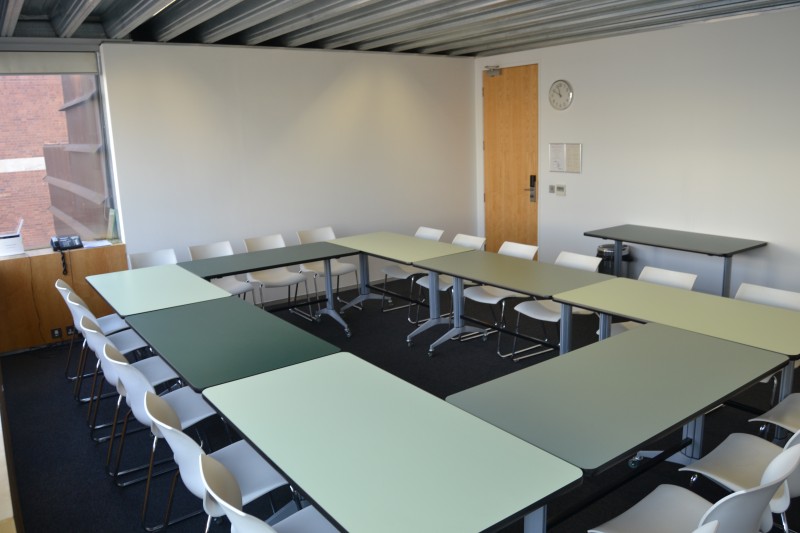 Space 9
Fifth floor
6.4m × 5.4m × 2.5m (with outside balcony area)
Space 9 is our second meeting room and is available for business meetings, seminars, trainings and away-days. It is a bright, room with mid-wall to ceiling windows on one side. It also has a small balcony area, for delegates to use during breaks.

Space 9 is an ideal space for a smaller meeting or training (maximum 20 delegates). It also works as the perfect breakout space to the larger meeting room, Space 8, for those clients wishing to have exclusive use of the fifth floor.

Equipped with:
• 50 inch LED TV (wall mounted)
• Writing wall and board pens
• Telephone conference call facilities
• Free Wi-Fi
• Projectors and laptops available for hire (details below)
• DVD player and Flipchart stand and pad available on request

Space 9 can accommodate up to 20 delegates boardroom, 18 cabaret and 30 theatre style.

It is fully accessible by the passenger lift from the ground floor. Accessible toilet and wash-room facilities are located on the Fifth Floor.

Space hire is a competitive £60.00+VAT per hour.
(3 hour minimum)

We also offer Full Day and Half Day Delegate rates for a minimum of 10 delegates which includes room hire and catering throughout the day.

Our in-house caterers The Gentlemen Baristas supply a range of catering to the meeting spaces, please take a look at our menu.
Catering ordered to the meeting room can be as simple as speciality teas, coffee and biscuits to delicious power pots and sandwich lunch or fresh, crisp seasonal salads.
Non-Exclusive
Weekdays (8 Hours)
9am – 5pm / 10am – 6pm
Exclusive
Weekdays 9am – 9pm
Weekends 10am – 6pm
Per hour: £60.00 (minimum 3 hours)
Full Day Delegate Rate: £60.00 per head
(up to 8 hours space hire between 9am-6pm)
Minimum 10 delegates includes 3 servings of tea/coffee, biscuits/pastries, water/ juice, lunch options (see menu)
Half Day Delegate Rate: £45.00 per head
(up to 4 hours space hire, between 91m-2pm or 1pm-6pm)
Minimum 10 delegates includes 2 servings of tea/coffee, biscuits/pastries/cakes, water/ juice, and a selection of sandwiches.
Additional Equipment Hire
Projector
£50 +
Laptop
£50
Projector and Laptop
£75
£3.00 per additional pad of A3 flipchart paper
*Rates do not include VAT

1. Donut / Boardroom layout
Maximum capacity 20

2. U-Shaped layout with tables
Maximum capacity 15

3. Classroom layout
Maximum capacity 12

4. Cabaret layout
Maximum capacity 18

5. U-Shaped chairs only
Maximum capacity 18

6.Theatre chairs only
Maximum capacity 30
For more information please call 020 7654 0171 or email space@jerwoodspace.co.uk