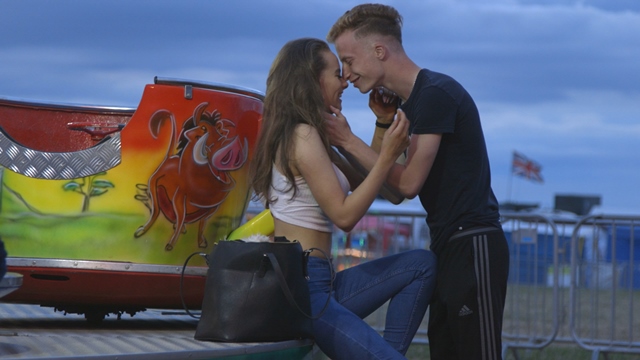 Image credit: Webb-Ellis, For The First Baby Born in Space, 2019. Commissioned for Jerwood/FVU Awards 2019: Going, Gone.
Exhibition details:
Jerwood/FVU Awards 2019: Going, Gone
Webb-Ellis and Richard Whitby
3 April – 2 June 2019
Gallery opening hours
Monday – Saturday: 10am – 5pm
Sunday 12 – 5pm
The Jerwood/FVU Awards 2019: Going, Gone premieres two newly commissioned moving-image installations by Webb-Ellis and Richard Whitby, the recipients of this sixth edition of the Awards.
For The First Baby Born in Space is a twin-screen projection by artist duo Webb-Ellis. A dispatch from the immediate present that is directly addressed to an indeterminate point in the future, it gives voice to some of the emotions and experiences of a generation of young people who have had little say in the dramatic political events unfolding around them or in the mounting ecological threats that the planet is facing. Featuring a group of teenagers from the artists' home base in Whitby, Yorkshire and elsewhere, and filmed over the course of the extraordinary long, hot summer of 2018, the piece highlights some of the golden moments of childhood: fairground hangouts, late-night raves, conversations under the stars. But it also evokes the darkening mood of a time that is rapidly coming to an end. Noting how the teenagers' coming of age coincides with the phenomenon of a country in chaos and in flux, the piece captures a wider feeling of turbulence and upheaval, rippling through fidgety bodies and anxious minds, while reminding us also that youth is so often a source and a mainstay of hope.
In Richard Whitby's video The Lost Ones, a disparate group of individuals are waiting to have their residency status assessed. Stuck in bureaucratic limbo, and asked to attend an interview at a place called the Premium Service Centre, they find themselves interrogated by a disembodied voice, whose peremptory manner and frequently malicious tone makes for an uncomfortable, hostile environment. Alluding to the dystopian visions of Orwell and Beckett, and the surrealist animations of Svankmajer, but adding a contemporary edge in the aftermath of the Windrush scandal and the extended dramas of Brexit, the piece has a black-comic energy that mixes acerbic, absurdist humour with moments of genuine pathos. Co-scripted by television writer and satirist Alistair Beaton and beautifully improvised by a number of more or less in-the-dark performers, The Lost Ones confronts us with an inescapably timely and symbolic image of people so trapped in a tortuous, nightmarish process that they start to lose their grip on reality.
The artists were selected from over 145 applications by Elizabeth Price, artist; Peter Taylor, Festival Director at Berwick Film & Media Arts Festival; Steven Bode, Director at Film and Video Umbrella; and Sarah Williams, Head of Visual Arts at Jerwood Arts.
The Jerwood/FVU Awards are a major annual opportunity for moving-image artists run in partnership by Jerwood Arts and FVU. They were established in 2012 in response to a need for significant major commissions for early-career moving-image artists at an unproven stage in their practice, and contribute to an ongoing dialogue around urgent or timely concerns within moving image through the curatorial theme which changes each year.
Gallery opening hours
Monday – Saturday: 10am – 5pm
Sunday 12 – 5pm
Closed Bank Holidays.
The Gallery is open until 8pm on the last Friday of every month during exhibitions.
Project Space opening hours
Monday – Friday 9am – 5pm
Saturday 10am – 2pm
Entry is free
The striking 2,600 sq-ft exhibition space is the London base for Jerwood Arts. It is a national programme supporting visual arts practice, working with early career artists to commission and present new work. Artist opportunities run throughout the year alongside a programme of related exhibitions, events and commissioned writing taking place online, in London and across the UK.
The programme at Jerwood Space includes new work in the Project Space, situated in The Schoolhouse, the Backdrop Commission, situated in the adjacent courtyard.
For full programme and visiting information please visit www.jerwoodarts.org